Son of a plumber, owner/operator Wayne Teal started working in the trade at a young age. He went on to work for one of the largest mechanical contractors in Atlanta, Georgia and later was the 'In-House Plumber' for Turner Properties at the CNN Center. This background has given Wayne experience in construction and service plumbing on a commercial and residential scale.
Then after Wayne and his wife Melissa where blessed with twins in 1996, he set out to start his own business. So in 1997 to support his family, Wayne founded 'Regal Plumbing' in Newnan, Georgia with the goal of offering quality plumbing service "fit for a king, prices fit for a pauper".

Then in 2001 Wayne and his family moved to Lake Martin, and along with them came Regal Plumbing. Now, over 15 years later Regal Plumbing is still serving the Lake Martin area and the city of Dadeville. Service has even been extended to Alexander City, Auburn, and Tallassee; the current location of our offices.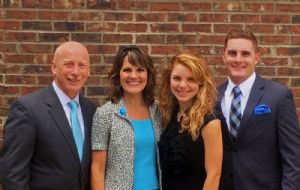 Wayne, Melissa, Alana, and Evan Teal
With over 30 years of experience in the plumbing field and Master Plumbing and Gas Fitting licenses, Wayne has the experience to provide quality service. Now after almost 20 years of service; Wayne Teal along with his children, who have both grownup to become licensed Journeyman Plumbers, still have as the company and family goal to offer to our community service that is 'Fit for a King, at prices fit for a Pauper"!